National News [USA, Canada, Europe and Australia]
Related Information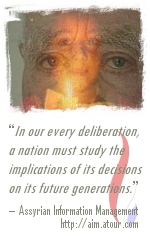 Assyrian Holocaust
The Concept of Martyr from an Assyrian Perspective: Past and Present


7th of August, Assyrian Martyrs Day
---
The 7th of August is a designated Memorial Day for the Assyrian Martyrs who gave their lives in defense of our culture and ethnic identity. This day also commemorates the genocide of the Assyrian people throughout centuries, beginning with third century BC at the hands of the Sassanide Persians in Mesopotamia and the mid of ninetieth century at the hands of the Kurdish leader Bader Khan Beg in Hakkari and during the turn of the twentieth century at the hands of the Ottoman Turks Turkey and Urmia/Salames - Persia, all the way to the massacre of the Assyrians in 1933 by the newly asserted state of Iraq, as well as the ethnic cleansing which was conducted against our people (Maronites) in mount of Lebanon 1975 & 1985.
However terrible and decimating those massacres were unable to destroy the living spirit of our nation and her thrust for freedom and persistent struggle for preserving our ethnic and cultural identity.
On Thursday August 7, 2003, at 6:30 PM a commemoration ceremony, with candlelight vigil, will be held by "The Assyrian Martyrs Monument" at the Montrose cemetery, 5400 North Pulaski, Chicago, Illinois. Following the ceremony a consecrated "DOUKHRANA" will be offered at Mar Odisho Church, 6201 North Pulaski, Chicago, Illinois.
We call upon our people, especially, our youth to observe this very special day and participate in this ceremony.

---