Home | Terms of Service, Copyright, Privacy and Legal Information
Terms of Service, Copyright, Privacy and Legal Information
Updated: March 03, 2020
---
Contents

Thank you for visiting the website!

The Internet is an amazing ecosystem of information. It has the power to change the way we live, and we are beginning to see that potential every day. It is important to the development team at AIM to utilize this potential in a secured, structured and sustainable method to maintain our mission:

To preserve. To inform. To inspire. (more...)

Do you have a question? Check our
Frequently Asked Questions, FAQs.
The Public Domain Philosophy
The information in this website (www.atour.com) is primarily in Public Domain and Creative Commons, unless otherwise stated as copyrighted by other respective companies, organizations or individuals, and can be reproduced without permission from atour.com. Please make a link from your website pages to this website and use the information in your media programs, publications, websites, radio or television programs to bring further awareness to the plight of the Assyrians.
Copyright Information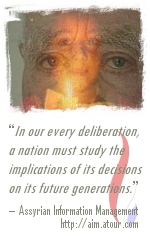 Our philosophy of promoting Assyrian history, language and culture has led to the development of a systems design capable of making information easily available, referenced and presented in a professional manner on the Internet.
The majority of Assyrian related information — documents, photos, audio and video — are sent by e-mail for inclusion to the website by authors, writers and concerned activists to bring further awareness to important information.
These are some of the important benefits of having articles posted on this website:
bring further awareness to the article's message
and the dedication of the author who prepared it
solidifies the viewpoint of the message since
we further promote it by publishing it on the website
articles are preserved and presented in a professional manner
information within the document is searchable by our search engine
and most importantly, information within the document is also searchable and referenced properly by major search engines, effectively giving the article vast online Internet exposure
Sharing your academic achievement — magnum opus — will foster learning and promote a sense of community, especially needed for a beleaguered Assyrian nation living in the four corners of the diaspora.
Oftentimes, great works are left in dusty drawers and shelves or stored securely within academic offices and websites. Access to this information is frustratingly tedious, requiring lengthy procedures, applications and logins.
We respect copyright laws and believe in the fair use of copyrighted work for the purposes of news reporting, teaching, scholarship, research and preservation.
We recommend making a complete digital EPUB and PDF document of your book, thesis, report, article or essay and distribute them freely on the Internet. Include purchase information and direct URL links to your material at various online bookstores (Amazon, Xlibris) within your documents. Since a digital document does not have the benefits of a printed book, this free global distribution solution has been proven to increase sales.
We believe that removal of Assyrian related information (documents, photographs, audios and videos) from this website and the strict implementation of copyright laws equate to an academic genocide and will ultimately hinder Assyrian nationalism and awareness, by limiting the amount of information on the Internet.
In summary, we remain hopeful that the important advantages listed above and the educational benefits that they generate by having the information physically located on our website, will mutually help our common objectives and the needs of our own communities, including the search queries of many researchers.
Publish Information
Remove Information
To publish information, please share using this online form. We look forward to publishing or republishing and preserving your academic achievements for longevity within the Assyrian Library or various other categories of the website. Perhaps you may become a mentor to a reader.
To remove information, please contact us by using this online form and give the exact full URL filename. The document's data will be removed and updated with a message stating you requested their deletion from the website, to inform the inquiring reader.

Your browser does not support video.
Please download the file: video/ogv video/mp4 video/webm

Every 24 hours, the digital universe grows by 1,287,671,232,877 Megabytes.

— IDC white paper,
"The Diverse and Exploding Digital Universe"
PDF,
sponsored by EMC, March 2008.
System Abuse Policy
Web, E-mail, and Usenet Terms of Service
System abuse is strictly prohibited. AIM may terminate or modify service immediately and may bill for any resulting support charges if the client engages in system abuse. Following is a list of actions which are defined to be system abuse. This list is non-exclusive; any action about which there is any doubt should be referred to AIM for evaluation.
Actions which constitute system abuse include, but are not limited to:
attempting to circumvent user authentication or security of any host, network, or account on AIM systems or the Internet at large ("cracking");
attempting, in any way, to interfere with or deny service to any user or any host on the Internet;
forging email or USENET posting header information;
sending large numbers of unsolicited mail messages (i.e. "junk mail", "SPAM"); this includes adding or attempting to add addresses to any mailing list without explicit positive consent of the addressee.
forwarding or posting "chain letters" (multiple forwarding) of any type;
posting inappropriate messages to USENET newsgroups e.g., posting large numbers of unsolicited posts indiscriminately ("spamming"), or posting encoded binary files to USENET newsgroups not specifically named for that purpose;
attempting to cancel, supersede, or otherwise interfere with email or USENET posts other than one's own;
engaging in harassment, whether through language, frequency, or size of messages;
using an account at another provider to promote an AIM website in an abusive manner;
using an AIM account or network connection to collect replies to messages sent from another provider which violate these rules or those of that provider;
reselling AIM services to third parties who do not abide by these guidelines.
Privacy Policy
AIM is committed to safeguarding your privacy online. Please keep in mind that whenever you voluntarily disclose personal information online - for example on forums, through email, or in chat areas - that information can be collected and used by others. In short, if you post personal information online that is accessible to the public, you may receive unsolicited messages from other parties in return.
Ultimately, you are solely responsible for maintaining the secrecy of your passwords and/or any account information. Please be careful and responsible whenever you're online.
Information Collection and Use
AIM is the sole owner of the information collected on this site. AIM collects information from our users at several different points on our website. We will not sell, share, or rent this information to others.
In order to use certain features in this website, a user must first complete the registration form. During registration a user is required to give their contact information (such as name and email address). This information is used to contact the user about the services on our site for which they have expressed interest, so we can provide a more personalized experience on our site.
A cookie is a piece of data stored on the user's computer (hard drive) containing information about the user. Usage of a cookie is in no way linked to any personally identifiable information while on our site. Once the user closes their browser, the cookie simply terminates. For instance, by setting a cookie on our site, the user would not have to log in a password more than once at our forums, thereby saving time while on our site. If a user rejects the cookie, they may still use our site. The only drawback to this is that the user will be limited in some areas of our site. For example, the user will not be able to use the enhanced features of the Assyrian Forums.
We use IP addresses to analyze trends, administer the site, and gather broad demographic information for aggregate use. IP addresses are not linked to personally identifiable information. There is no invisible collection of information relative to the browsing of this website.
We will not share aggregated demographic information with anyone, this includes partners, sponsors, affiliates, organizations, individuals, and any other institution or third party.
The Atour website contains links to other sites. Please be aware that we, Assyrian Information Management (AIM), are not responsible for the information published and/or privacy procedures of such other sites. We encourage visitors to be aware when they leave our site and to read the privacy statements of each and every website that collects personally identifiable information. Thus, this privacy statement applies solely to information collected by our site.
Newsletter (Mailing Center)
Users can subscribe and/or unsubscribe to the Atour Newsletter by entering their email address on our mailing list. We send an email message about once a month to keep our readers aware of new updates and developments at Atour. Readers who no longer wish to receive our newsletter or promotional materials from Assyrian organizations may simply unsubscribe at any time from the mailing center.
Newsletter features:

You can opt-in or opt-out at anytime

Your email address remains private

We have a zero tolerance policy towards SPAM
We do not share email addresses or lists with any organization, company, and/or individual. Email addresses and correspondences are considered private and confidential material.

As an alternative, if your interested in sending and receiving private messages, register in the Assyrian Forums. Registered members have the ability to send and receive private messages with each other by using this system. Your email address is never shown and remains confidential to protect you from SPAM messages. This communications feature allows other registered people within the Assyrian Forums to privately and safely contact you online.
There are various Atour Surveys that you can participate in. We only use IP addresses to ensure users vote in the survey questions only once. Participation in these surveys is completely voluntary and the user therefore has a choice whether to participate or not. Survey information will be used for informational and statistical purposes only.
Tell-A-Friend using the Assyrian Forums
If a user elects to use our referral mailing service for informing a friend about our site or messages posted in the Assyrian Forums, we ask them for the friend's name and email address. Atour will automatically send the friend an automated one-time email message inviting them to visit the site or forums. Atour does not store this information and uses it for the sole purpose of sending this one-time email.
UPDATE: May 15, 2019
The atour.com website now uses
Let's Encrypt
for automated certificate security and verification. All links to the website will appear securely as
https://www.atour.com
, including the
Assyrian Forums
. Thus, the security instructions for our self-signed certificate below are not necessary.
To participate in the forums, members are required to install our server security certificate to ensure the connection between our server and your computer are communicating securely. Provided on this page are specific instructions for the most popular Internet browser programs.
We invest our volunteer resources to protect our members' information and privacy. Forum registrations and other sensitive login information such as a forum username and password are encrypted and protected with Secure Sockets Layer (SSL) technology, a computer networking encryption protocol.
The forums login page appears with a secured URL address "https://www..." (note the letter "s"), as the lock icon on the top of Internet browser programs such as Mozilla Firefox, Google Chrome, and Microsoft Internet Explorer become locked, as opposed to being un-locked or unsecure. This is to notify you of the website's security status and current connection with your computer.
Security certificate companies charge websites with an annual fee to notify the visitor that the website has registered with them and is secure. We are not subscribed to these companies since we generate and manage our own self-signed server certificate and security. Thus, your browser will alert you of this notice, simply click on trust the Atour.com website security certificate or add a security exception depending on your Internet browser as shown in the instructions below.
Remember, a self-signed server is safer in all circumstances than a completely unprotected server.
Upon completion of the website certificate acceptance, please login at the main page of the forums.
Installing Atour Server Security Certificate
IMPORTANT: To ensure a secure connection to this website during the forum registration process and future logins, please review the Assyrian Forums Registration and Login Information and install our website security certificate (see image at right) into the "Trusted Root Certificate Authorities" section within your Internet browser software, such as Firefox, Chrome, or Internet Explorer.
Correction/Updating Personal Information
If a user's personally identifiable information changes, or if a user no longer desires our service, we will endeavor to provide a way to correct, update or remove that user's personal data provided to us. Email your request through our contact system.
Of course, if we decide to change our privacy policy, we will post those changes on our website so visitors are aware of what information we collect, if any, and how we use it.
Recommended Applications
In the 1990's, during the early years of the Internet, software plugins were needed to help Internet browser programs to properly display the text, audio and video presentations on our web page. Today, the Internet browser programs, such as Firefox, Chrome and Internet Explorer (Edge), have improved significantly and are capable in displaying websites as they were designed without additional plugins required.
In modern times, technology has improved to help with Internet privacy concerns, especially for human rights activists, artists, authors, journalists, and writers. We highly recommend using the following applications to protect your online privacy, specifically Signal for your phone, Tor for your Internet browser program, and Tails for your operating system.
Thank you for visiting the website!


Click on the image to bookmark this website.
---
---