The Chicago Assyrian Dictionary (CAD)
of the Oriental Institute of the University of Chicago
---
Martha Roth, Ph.D., Professor of Assyriology and Dean of Humanities, discusses the final volume of the Chicago Assyrian Dictionary, a comprehensive lexicon of ancient Akkadian dialects 86 years in the making. Roth has served as Editor-in-Charge of the project for the past 11 years.
RECORDED:
October 20, 2007
Audio: MP3
PUBLISHED: November 14, 2007
SERIES: Research at the University of Chicago
Iraq Museum Database - the Oriental Institute Iraq Museum Database project is a worldwide effort to document and recover the items looted from the museum in April, 2003.
Introduction
The Chicago Assyrian Dictionary, initiated in 1921 by James Henry Breasted, is compiling a comprehensive dictionary of the various dialects of Akkadian, the earliest known Semitic language that was recorded on cuneiform texts that date from c. 2400 B.C. to A.D. 100 which were recovered from archaeological excavations of ancient Near Eastern sites. The Assyrian Dictionary is in every sense a joint undertaking of resident and non-resident scholars from around the world who have contributed their time and labor over a period of seventy years to the collection of the source materials and to the publication of the Dictionary.
The CAD project began not long after James Henry Breasted founded the Oriental Institute in 1919, and barely one hundred years after the decipherment of the cuneiform script. This initial decipherment, and the soon-to-follow achievements in understanding the languages in which the hundreds of thousands of clay tablets were inscribed, opened an unsuspected treasure-house for the study and appreciation of one of the world's oldest civilizations.

The Chicago Assyrian Dictionary was conceived to provide more than lexical information alone, more than a one-to-one equivalent between Akkadian and English words. By presenting each word in a meaningful context, usually with a full and idiomatic translation, it recreates the cultural milieu and thus in many ways assumes the function of an encyclopedia. Its source material ranges in time from the third millennium B.C. to the first century A.D., and in geographic area from the Mediterranean Sea in the west to the Zagros Mountains in the east.

With sixteen of the projected twenty-one volumes published and the remaining volumes in various stages of preparation, with close to two million file cards - a database which is continually updated and which is accessible to scholars and students who wish to consult it - the Chicago Assyrian Dictionary has become an invaluable source for the study of the civilizations of the ancient Near East, their political and cultural history, their achievements in the sciences of medicine, astronomy, mathematics, linguistics, and the timeless beauty of their poetry.
Source: The Oriental Institute of the University of Chicago
---
Assyrian Dictionary
Editor-in-Charge:
Martha T. Roth
Editorial Board:
Robert D. Biggs
John A. Brinkman
Miguel Civil
Walter Farber
Erica Reiner
Martha T. Roth
Matthew W. Stolper
Key to icons:
Purchase Book
Download PDF
Terms of Use: The electronic files are only to be distributed from the Oriental Institute's Web site. Individuals, libraries, institutions, and others may download one complimentary copy for their own personal use. Links to the Institute's Web site are welcomed.
© The University of Chicago.
| Volume | Pagination | Date | ISBN | Price | Purchase | Download |
| --- | --- | --- | --- | --- | --- | --- |
| Volume 1, A, part 1 | xxxvi + 392 | 1964 | 0-918986-06-0 | $60.00 | Book | PDF, 42 MB |
| Volume 1, A, part 2 | xx + 531 | 1968 | 0-918986-07-9 | $80.00 | Book | PDF, 53 MB |
| Volume 2, B | xviii + 366 | 1965 | 0-918986-08-7 | $60.00 | Book | PDF, 37 MB |
| Volume 3, D | xiv + 203 | 1959 | 0-918986-09-5 | $50.00 | Book | PDF, 21 MB |
| Volume 4, E | xiv + 435 | 1958 | 0-918986-10-9 | $70.00 | Book | PDF, 44 MB |
| Volume 5, G | xii + 158 | 1956 | 0-918986-11-7 | $45.00 | Book | PDF, 15 MB |
| Volume 6, H <Het> | xiii + 266 | 1956 | 0-918986-12-5 | $50.00 | Book | PDF, 26 MB |
| Volume 7, I/J | xv + 331 | 1960 | 0-918986-13-3 | $60.00 | Book | PDF, 33 MB |
| Volume 8, K | xix + 617 | 1971 | 0-918986-14-1 | $80.00 | Book | PDF, 60 MB |
| Volume 9, L | xx + 259 | 1973 | 0-918986-15-X | $55.00 | Book | PDF, 26 MB |
| Volume 10, M, part 1 | xxiv + 441 | 1977 | 0-918986-16-8 | $130.00 | Book | PDF, 43 MB |
| Volume 10, M, part 2 | xx + 324 | 1977 | 0-918986-16-8 | † | — | PDF, 32 MB |
| Volume 11, N, part 1 | xxiii + 382 | 1980 | 0-918986-17-6 | $130.00 | Book | PDF, 38 MB |
| Volume 11, N, part 2 | xxi + 357 | 1980 | 0-918986-17-6 | † | — | PDF, 35 MB |
| Volume 12, P | xxx + 559 | 2005 | 1-885923-35-X | $130.00 | Book | PDF, 4 MB |
| Volume 13, Q | xxiv + 332 | 1982 | 0-918986-24-9 | $70.00 | Book | PDF, 32 MB |
| Volume 14, R | xxx + 441 | 1999 | 1-885923-14-7 | $95.00 | Book | PDF, 4 MB |
| Volume 15, S | xxiv + 428 | 1984 | 0-918986-40-0 | $80.00 | Book | PDF, 39 MB |
| Volume 16, S <Tsade> | xv + 262 | 1962 | 0-918986-18-4 | $65.00 | Book | PDF, 26 MB |
| Volume 17, S <Shin>, part 1 | xxviii + 492 | 1989 | 0-918986-55-9 | $75.00 | Book | PDF, 48 MB |
| Volume 17, S <Shin>, part 2 | xxviii + 453 | 1992 | 0-918986-78-8 | $70.00 | Book | PDF, 43 MB |
| Volume 17, S <Shin>, part 3 | xxxiv + 420 | 1992 | 0-918986-79-6 | $95.00 | Book | PDF, 39 MB |
| Volume 18, T | xxx + 500 | 2006 | 1-885923-42-2 | $145.00 | Book | PDF, 4 MB |
| Volume 19, T <Tet> | xxxii + 167 | 2006 | 1-885923-43-0 | $105.00 | Book | PDF, 2 MB |
| Volume 20, U/W | xxxi + 411 | 2010 | 1-885923-78-3 | $150.00 | Book | PDF, 4 MB |
| Volume 21, Z | xv + 170 | 1961 | 0-918986-19-2 | $45.00 | Book | PDF, 17 MB |
† sold as set with part 1
Revised: April 13, 2011
---

PBS: Oriental Institute Unveils Multimillion-Dollar Makeover
Assyrian Dictionary Project Finally Completed After 90 Years
Assyrian Dictionary | The Helsinki Neo-Assyrian Dictionary
Modern Aramaic
Dr. Alexander Joseph Oraham - Oraham's Dictionary
Raised from the Ruins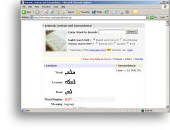 Aramaic Dictionary (search online)
Volume
Price
Purchase
Download
Volume 1, A, part 1
$60.00
Book
PDF, 42 MB
Volume 1, A, part 2
$80.00
Book
PDF, 53 MB
Volume 2, B
$60.00
Book
PDF, 37 MB
Volume 3, D
$50.00
Book
PDF, 21 MB
Volume 4, E
$70.00
Book
PDF, 44 MB
Volume 5, G
$45.00
Book
PDF, 15 MB
Volume 6, H <Het>
$50.00
Book
PDF, 26 MB
Volume 7, I/J
$60.00
Book
PDF, 33 MB
Volume 8, K
$80.00
Book
PDF, 60 MB
Volume 9, L
$55.00
Book
PDF, 26 MB
Volume 10, M, part 1
$130.00
Book
PDF, 43 MB
Volume 10, M, part 2
†
—
PDF, 32 MB
Volume 11, N, part 1
$130.00
Book
PDF, 38 MB
Volume 11, N, part 2
†
—
PDF, 35 MB
Volume 12, P
$130.00
Book
PDF, 4 MB
Volume 13, Q
$70.00
Book
PDF, 32 MB
Volume 14, R
$95.00
Book
PDF, 4 MB
Volume 15, S
$80.00
Book
PDF, 39 MB
Volume 16, S <Tsade>
$65.00
Book
PDF, 26 MB
Volume 17, S <Shin>, part 1
$75.00
Book
PDF, 48 MB
Volume 17, S <Shin>, part 2
$70.00
Book
PDF, 43 MB
Volume 17, S <Shin>, part 3
$95.00
Book
PDF, 39 MB
Volume 18, T
$145.00
Book
PDF, 4 MB
Volume 19, T <Tet>
$105.00
Book
PDF, 2 MB
Volume 20, U/W
$150.00
Book
PDF, 4 MB
Volume 21, Z
$45.00
Book
PDF, 17 MB